John Considine genealogy
Posted by
Matt
on October 25, 2008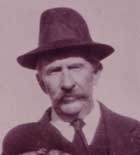 Given my mothers lack of knowledge about this side of her family, I have started to trace some information regarding her grandfather John Considine and would appreciate any information that anyone has about him. What I have found out so far is here.
John Considine b.27 May 1863 Modewarre (Geelong) d.13 May 1938 Drouin was the second of the eight children of Patrick Consedine and Hannah Feeney (or Hannah Francis or Hannah Finnie). Spellings of the Consedine surname vary in records from Considine (as it is now) to Consedine (as it is listed on earlier records). John's siblings include Patrick (b.1862 d. 22 December 1907 Geelong), Cornelius b.1866, Kate b.1868, Mary b.1869, Hannah b.1871, Bridget b.1874 and Edward b. 1875.
From his marriage certificate to Annie Quigley in 1893, it shows that he was a widower as of 22 November 1891. There were no living children from this marriage. He is listed as a farmer in Mardan, just south of Mirboo North.
I'm led to believe that John did a fair bit of diverse work in Kalgoorlie-Boulder; from running whippet races, maintaining camel trains, doing water haulage to Coolgardie, being the licensee of a pub and operating a shop that sold provisions and food to miners. There are also apparently records of him working for the Kalgoorlie-Boulder Council as an engineer sometime back in the early 1900's. I'm told that while in WA, John sent Annie home to Victoria to see her family every year. The whole family returned to Victoria when my Edna, my grandmother was nine months old (1911) and his story continues above.
John's parents
John's father, my great great grandfather Patrick Consedine was born around 1826 in Clare, Ireland. His parents were Patrick Considine and Mary Cunagh (I wish the family would choose from a wider range of first names). From the records that I can find, it appears that he migrated to Australia from Ireland about 1852.
Patrick's first marriage in Geelong at the age of 30 (1855) was to Bridget K Gannon (I think this is the spelling as the record is of poor quality) and they had three children: John, Terrence (b.1859 approx) and Mary Ellen. At the time of my great grandfather John's birth in 1863, only Terrence was alive from this marriage. It is not known what happened to his first wife, but given the death of two of his young children, it is possible Bridget died from complications of pregnancy. Terrence is listed as being still alive at the time of Patrick's death in 1897.
In 1862 Patrick Consedine entered into a second marriage with Hannah Feeney in Melbourne, Victoria. Hannah was born in Sligo, Ireland around 1832 and her father was John Feeney, farmer. From the records, it is assumed that Hannah migrated to Australia around 1858. Hannah and Patrick had the eight children listed above and lived most of their life in and around Geelong, Modewarre and Mount Moriac.
Patrick died on 1 June 1897 in "Laketown", Shire of Barrabool at the age of 72. He is buried in the Mount Moriac cemetery. Hannah died on 13 February 1917, listed as residing at Mayers St, Geelong at the age of 85. Hannah is also buried in the Mount Moriac cemetery.